/ 26 September 2017
/ No Comments
The HSLANJ Group Licensing Initiative's Fall 2017 Offer is now available to all medical librarians in the NNLM/MAR, SE/A, and NER. Today we continue our fall articles, highlighting new products and collections available from vendors. For more information on the HSLANJ GLI, contact Project Manager Robb Mackes  (email or 570-856-5952).
By Nicolle Schieffer, Licensing Sales Specialist, Department of Member Engagement, Marketing & Publishing, American Academy of Pediatrics.
The American Academy of Pediatrics is excited to announce a new offering available exclusively to the HSLANJ Group Licensing Initiative – a discount of 15% when purchasing an institutional site license to Pediatric Care Online. ™
Pediatric Care Online™ (PCO) is an online clinical support tool containing essential pediatric-specific clinical content featuring a full suite of resources including:
Red Book® Online – the definitive source for pediatric infectious disease diagnosis & treatment.
AAP Textbook of Pediatric Care, 2e – the landmark pediatric medicine guide for clinicians & students.
Pediatric Patient Education™ – digital library of 350+ patient education handouts.
Point-of-Care Quick Reference – 250 of the most relevant pediatric topics outlined for quick & easy access.
AAP Policy – the latest AAP Policy statements, clinical practice guidelines, and technical & clinical reports.
Bright Futures content – newly revised for the 4e Guidelines for well-child visits.
Common Pediatric Medical Procedures video series – featuring the 13 pediatric procedural skills required by ACGME.
Webinars – keep providers abreast of the latest pediatric content and information.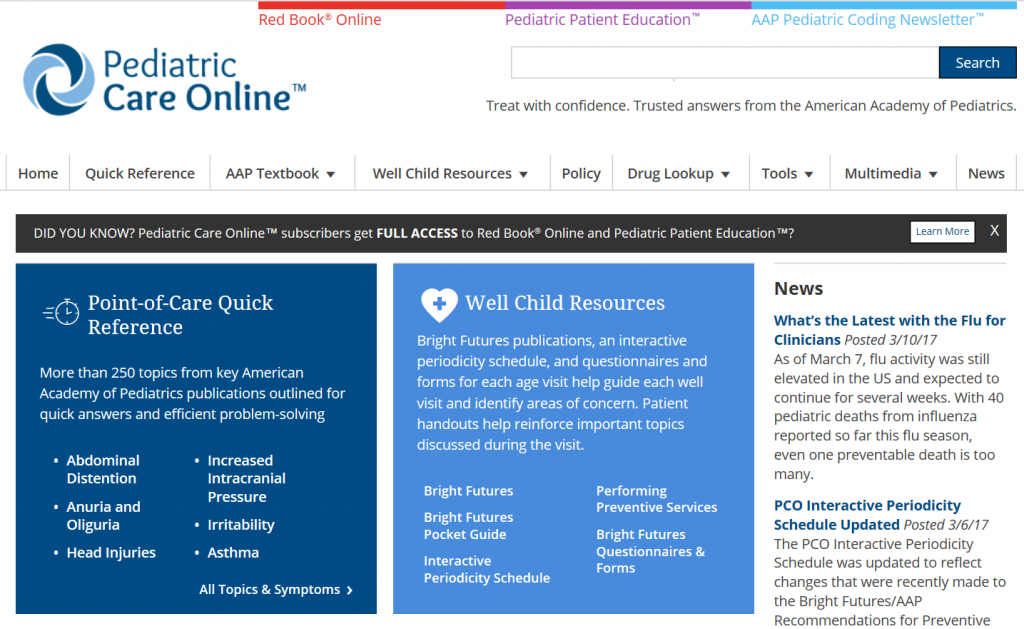 View Our Complete Fall 2017 HSLANJ Offer which includes discounts ranging from 15%-40% on other AAP products including the AAP eJournal Collection (EJC), the Hospital Pediatrics Journal, Red Book® Online, and perpetual rights for AAP eBook Collections.
* This offer is valid through November 17, 2017 for members/participants of the HSLANJ GLI.
Contact Us
Allison Durocher, Manager, Site Licensing, American Academy of Pediatrics: Email