/ 26 August 2014
/ No Comments
This is the third article in our series, previewing dynamic new resources available in our upcoming Fall 2014 Offer through the HSLANJ Group Licensing Initiative.
By Matthew Rovery, Account Manager, McGraw Hill Education
McGraw-Hill Medical offers trusted solutions that deliver authoritative content through ClinicalAccess™, a revolutionary online clinical decision support tool, and AccessMedicine®, the most comprehensive online medical resource available today. Together, they'll connect your institution to essential clinical information, the moment it's needed.
ClinicalAccess is designed to reflect the way real-world healthcare professionals think at the point of care. It delivers targeted answers to more than 120,000 questions – enabling your team to provide superior patient care with maximum speed and efficiency. What makes ClinicalAccess unique is this: our questions are written by experts from the frontlines of medicine and our answers are specific and targeted.
Exclusive ways ClinicalAccess improves your team's effectiveness:
New questions and answers are continuously added to keep pace with changes in medicine.
More than 20,000 high-quality images, videos, algorithms, and other media are integrated into the answer to enhance your understanding of the topic.
An advanced filter option quickly refines your search.
Related questions are automatically identified to provide easy access to further reading.
Drug names instantly link to DrugPoints®, providing essential information to treat critical patient conditions.
Our partnership with McMaster PLUS gives you access to the most current, relevant, robust evidence.
Working with an AccessMedicine subscription, you can delve into any topic and experience in-depth coverage of your query.
AccessMedicine delivers essential clinical information for the wards, clinics, or even from home. AccessMedicine includes cutting-edge interactive tools and features that deliver indispensable support to aid medical practice such as more than 85 leading medical textbooks, including Harrison's Online, Tintinalli's Emergency Medicine, and CURRENT Medical Diagnosis & Treatment, Patient Education for more than 5,000 topics, an extensive multimedia library, practice guidelines, a DDx tool, an integrated drug database, and the AccessMedicine APP for smart phones /tablets.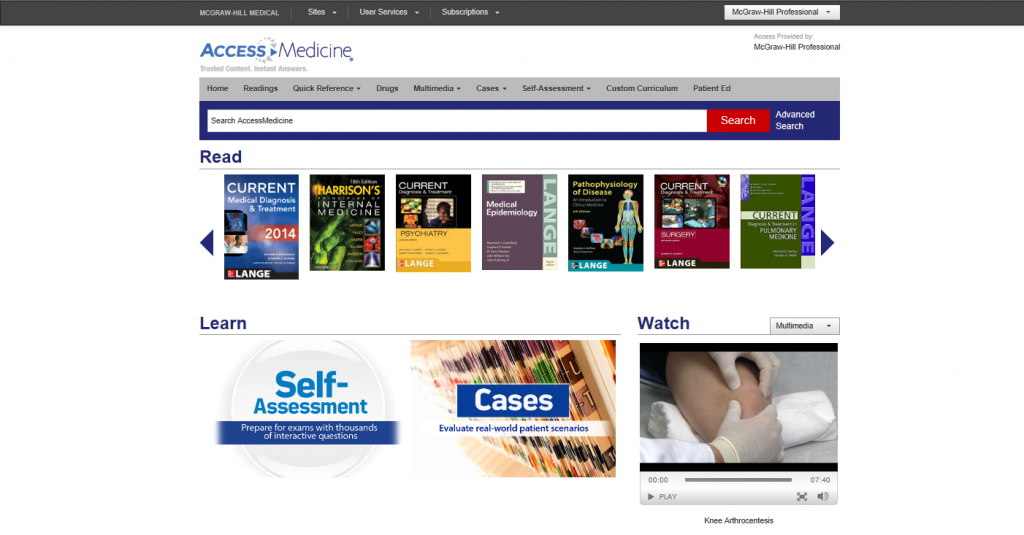 Click here to visit the Current Offer page to access the Fall 2014 Offer—it will be available in September. Feel free to contact Robb Mackes to receive the password in order to access the Offer: (570) 856-5952 or rtmackes (at) gmail.com.