/ 16 March 2015
/ No Comments
The HSLANJ GLI is pleased to coordinate with more than a dozen vendors, in order to offer the highest-quality medical resources to health sciences librarians. Today, we continue our series of articles to inform librarians of new or updated products available through the upcoming Spring 2015 Offer.
By Matt Rovery, McGraw Hill, Account Manager (NY/NJ), 646-673-4361, Matthew.rovery@mheducation.com 
AccessMedicine is the world's most comprehensive online clinical resource available for clinicians, residents, NPs, PAs, and other healthcare professionals.  AccessMedicine delivers essential clinical information that includes cutting-edge interactive tools and features that deliver indispensable support to aid medical practice.   Providing access to more than 85 leading medical textbooks, AccessMedicine is your source for key brands including Harrison's Online, Tintinalli's Emergency Medicine, and CURRENT Medical Diagnosis & Treatment.  Also included, you will find Patient Education for more than 5,000 topics, an extensive multimedia library, practice guidelines, a DDx tool, an integrated drug database, downloadable image bank, and the AccessMedicine APP for smart phones /tablets.  AccessMedicine will also be introducing CME later in 2015 that will allow your clinicians to receive 20 AMA Category 1 credits.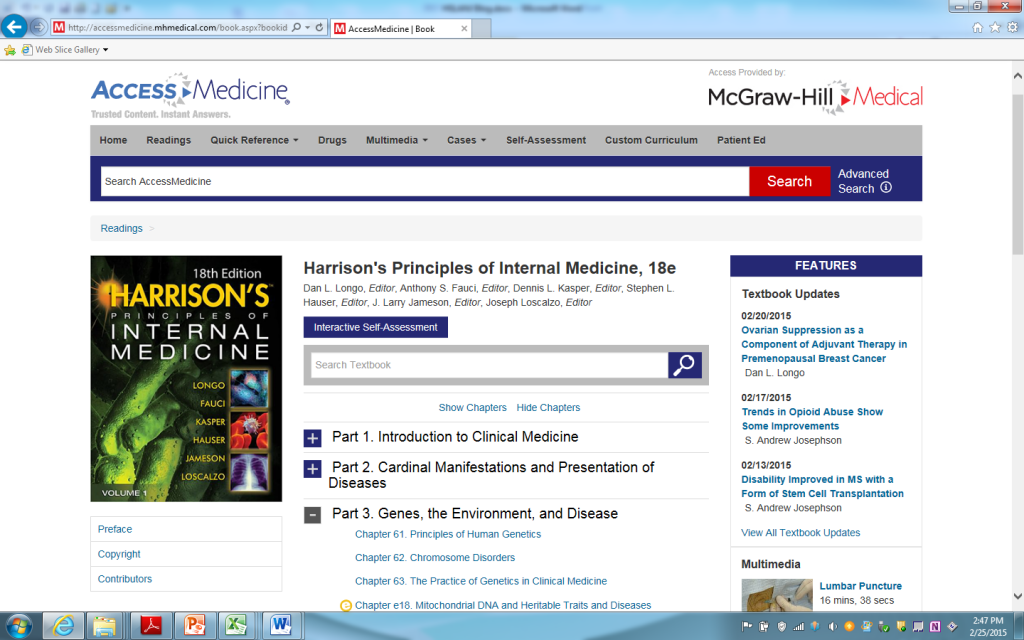 AccessSurgery – Introducing a new dimension to online surgical education and clinical practice
AccessSurgery introduces a whole new dimension to surgical education and clinical practice.  Updated regularly, this comprehensive online surgery resource provides rotating medical students with essentials needed to excel in their surgery clerkship as well as assisting residents in gaining access to videos, self-assessment, and leading surgical textbooks that establish an important foundation for learning.  AccessSurgery also enables clinical instructors to create, track, and report their students' progress through our Custom Curriculum tool and allows practicing surgeons to brush up on their medical knowledge.
All McGraw Hill platforms included within the HSLANJ offering are mobile optimized to recognize the user's device (i.e. smart phone or tablet) and adjust the browser to create a better learning and research experience.  Also included within the 2015 proposal are AccessEmergency Medicine, AccessPediatrics, AccessAnesthesiology, ClinicalAccess, and our newest platform, our Neurology Collection.  Free 30-day trials are available for all platforms.