/ 10 October 2018
/ No Comments
Continuing our fall series of articles highlighting updated features, resources, free trials and other benefits available through the HSLANJ Group Licensing Initiative's Fall 2018 Offer. All medical librarians in the NNLM/MAR, SE/A, and NER are welcome to participate. For more information on the HSLANJ GLI, contact Project Manager Robb Mackes  (email or 570-856-5952). Deadline to participate is November 9, 2018.
By Tim F. Herlihy, Associate Director of Sales (Central Region) / Health Learning, Research & Practice
Chances are you and your staff have guided residents, nurses, and physicians trying to carve out time to earn Continuation Education (CME/CE) credits to maintain their license to practice or to attain board certification. Wolters Kluwer now offers a solution that provides easy access—via mobile, tablet, or desktop—via a single point of entry to thousands of CE credits in a variety of fields.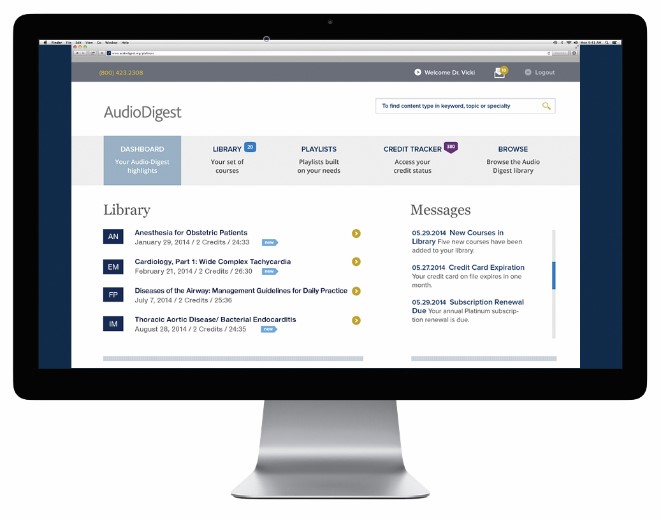 1,000s of AudioDigest Lectures and Board Review Sessions
Listening to lectures—and, ideally, absorbing the material!—is a great way to earn CE. Wolters Kluwer's Ovid® platform makes available more than 5,000 accredited audio files of clinical best practice lectures and board exam review sessions covering topics in 16 disciplines across primary care, surgery, and specialty areas like neurology and psychology. In total, more than 1.3 million CE/CME credits can be earned annually from these lectures.
Lectures are delivered by experts in their field, and organized and curated regularly by experienced medical editors. Users can download any audio file onto a unique media player that organizes lectures and reviews into favorites, makes them searchable by topic and keyword, and synchronizes them across other devices. That means seamless connectivity to a valuable learning event no matter where you are. To give you a better taste of how the product works, check out this demo: https://wolterskluwer.webex.com/wolterskluwer/lsr.php?RCID=b6c91d46de2bc87cbf2d481c6f4aaf78
Download the fact sheet here: http://site.ovid.com/pdf/Audio_Digest.pdf
Also Available from Ovid®: EBP Material from the Joanna Briggs Institute (JBI)
Based in Adelaide, Australia, JBI is a globally recognized leader among nurse leaders in particular for evidence summaries, systematic reviews of evidence, best practice guidelines, and syntheses of research literature. All of this content is available on the Ovid platform, as is a set of 8 software tools that guide clinical practitioners on how to appraise and review evidence, and apply it in a care situation. Download the fact sheet: http://site.ovid.com/pdf/JBI_EBP_fs.pdf
To learn more about these products, please reach out to your Ovid Representative or email sales@ovid.com.
AL, FL, SC – Diane Campagnes – diane.campagnes@wolterskluwer.com; (561) 713-5955
NC, WV – Erin Lang – erin.lang@wolterskluwer.com; (407)920-4618
MA, ME, NH, RI, VT – Betsy Hern – Elizabeth.Hern@wolterskluwer.com; (646) 436-6232
NY Downstate – Stella Hillegass  – stella.hillegass@wolterskluwer.com; (860) 559-3346
PA: Tim Herlihy – timothy.herlihy@wolterskluwer.com; (610) 952-9130
NJ & Upstate NY – Amanda Arsenault – amanda.arsenault@wolterskluwer.com; (781) 401-0418