/ 10 November 2016
/ No Comments
By Elizabeth Hern, Regional Sales Manager, OVID Technologies
As part of the HSLANJ Group Licensing Initiative, participants have complimentary access to 14 Wolters Kluwer products on Ovid. We'd like to spotlight three key products to sample.
Visible Body: A Powerful Patient Education Tool
Visible Body is an online tool that demystifies the human body through interactive 3D modeling, animations, and more. Doctors and educators can help patients grasp complex medical topics through clear on-screen visualizations. And with apps for most smartphones and tablets, Visible Body is completely mobile.
See an ER physician use Visible Body to explain:
Health Library: Ensure Clinicians Have Access To Authoritative Information
Ovid LWW Health Library products provide clinical users with onsite, remote and web-enabled access to premier content in the areas of Clerkship, Emergency Medicine, Surgery, Orthopaedic Surgery and Oncology.
They include a powerful semantic search so users can easily find content – as well as save, share and print it. They're also automatically updated whenever key titles are published.
Among selections to sample are:
Clerkship/Clinical Rotations – Includes 39 authoritative books covering the six core clerkship rotations, including key titles currently only available in print.
Emergency Medicine – Ideal for residents and physicians and includes 21 core textbooks plus 284 video clips and 2,626 Q&As.
Surgery – Includes 22 books, video clips, and Q&As covering essential surgical topics for residents and practicing surgeons.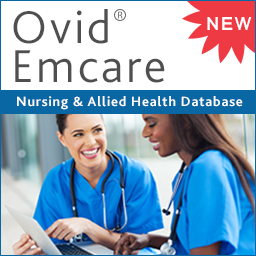 Emcare: Database Of High-Quality Nursing Content
Emcare gives you access to scholarly, high-quality peer-reviewed journals and articles focusing on clinical practice for nursing and allied health professionals.
With Emcare, you can access 70% of the content found in CINAHL as well as:
680 Emcare-exclusive journals
1700 additional journals from EMBASE (not in CINAHL).
2400+ journals not in CINAHL
If you are interested in learning about or accessing any of these resources, contact your area's Ovid representative:
AL, FL, SC: Diane Campagnes – email; (561) 713-5955
NC, WV: Kate Gleeson – email; (252)-772-5367
PA: Tim Herlihy – email; (610) 952-9130
NJ & NY: Elizabeth Hern – email; (646) 436-6232
DE, MD, D.C., VA: David Troy– email; (443) 857-6300
GA, MS, TN: Tommy Smith – email; (615) 332-4760